From mass earth moving to fine grading and shaping, our site development business unit has the resources to handle the job.
Our scope of work performed can be very broad to include all aspects of work needed for turn-key site development package and most often includes clearing and demolition, erosion control, bio-retention devices, earth moving, storm drain, underground storm control structures, water and sewer, fine grading, base and paving as well as stripping and sign installation. This division builds projects that include large residential communities, industrial sites, roadways and landfills. As we do on every project, we use industry-standard systems to produce quality work, within scope, on time and within budget.
Mass Excavation / Fine Grading
From small to large, we will be glad to grade any size job to suit your needs.
Transportation Services / Snow Removal
Our fleet of equipment ranges from flatbeds, lowboys, tankers, road tractors, dump trucks and more. Snow removal services provided during the winter season.
Utilities
Water, sewer, storm drain services.
Site Development
Providing turn-key site development services for the commercial and residential service industry.
Dam Construction / Repair
Improvement and construction of levy, pond dams, landfills, water control structures, etc.
Road Construction/Improvement
We can help you a build a 2-lane road from the ground up or offer any improvements that are needed as well.
Erosion Control
Sediment basins, bio-retention, storm water etc.
Soft Digging
Hydro Excavation is a process that uses pressurized water (or air) and an industrial strength vacuum to simultaneously excavate and evacuate soil. As hydro excavation safely breaks up soil, the soil and water slurry are conveyed by vacuum to a debris tank.  This method of excavation eliminates the probability of harming underground utilities as there are no conventional blades used for cutting the soil.
Hauling
Stewart's Prides itself upon the ability to haul various materials for residential and commercial customers.
Snow Removal
During snow season we provide a variety of snow removal equipment to take on your project, whatever it may be. We offer snow removal services for corporate offices, retail stores, shopping centers, hospitals, health care facilities and many more facilities.
Transportation
We offer a wide variety of equipment to help assist you with any transportation needs you may have.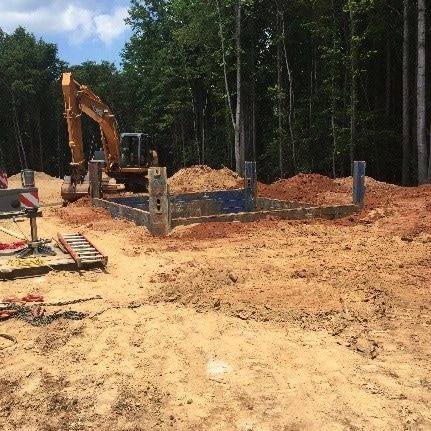 Duke Energy
Riverbend Plant
Cary, NC
Zava Service Station Demo
Clemmons, NC
Remax Office
Walnut Cove, NC
NCDOT Easley Rd
Duke Energy
Belews Creek Plant